Covid-19
THE HIGH COST OF COVID-19 FOR CHILDREN
The current crisis impact on children can have devastating short-, mid- and long-term consequences. (See image.)
In the present situation, millions of mothers and fathers must assume the role of caregiver and sole promoter of their children's development. In this context, parenting practices are particularly crucial, especially in Latin America and the Caribbean, where deep gaps between rich and poor households are well documented.
There is an urgent need to define support mechanisms for mothers, fathers and caretakers, and to give continuity to development and learning processes by early childhood services..
This will require using all available resources –both technological and others– as well as innovation to develop new strategies that meet the needs of all families, regardless of their socio-economic situation. We are facing an unprecedented opportunity to design programs and provide more cost-effective, equitable and resilient services to our young children.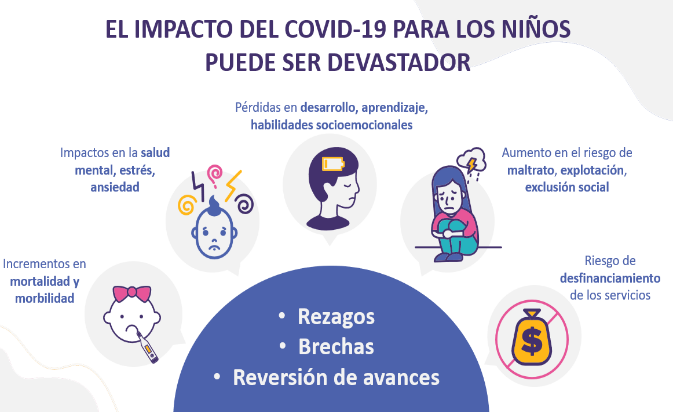 In this sense, it is paramount to ensure a minimum degree of protection and launch a transition towards multimodal educational strategies, keeping permanently in touch with the families.
Keeping permanently in touch with the families makes it possible to:
Monitor health and wellbeing
Keep a safe food supply
Access to social protection and income services
Prevent abuse and rights violations
Promote development and learning
Multimodal educational strategies involve content that is simple and adapted to different forms of delivery (virtual, text messages, radio, TV, etc.) and includes:
Simple activities and games
Messages on good parenting practices and self-care
Health, nutrition, and socio-emotional assistance
Adequate and versatile implementation protocols and dissemination channels
Training for community workers and educators